EcoFlex Rooftop Air Conditioner
The EcoFlex is our new minibus A/C. With improved performance, low weight and many smart solutions, it is the easy choice if you're looking for reliable A/C for your vehicle.
Electric fully automatic modular climate control system with a full range of options.
EcoFlex is our brand new driver A/C family.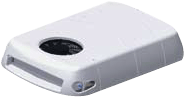 The self-contained unit (EcoFlex 4E) consists of all components including scroll compressor and brushless motor drive. You can also choose a model with just a condenser and compressor for a split system (EcoFlex 4ES). A third model (EcoFlex 6) is available which includes all components except the compressor. This model can be used as a passenger A/C for minibuses.
All models are manufactured with extensive use of aluminum components and ABS covers, in order to keep the weight to a minimum. The cooling systems have been optimized to provide the maximum cooling performance with a minimal refrigerant charge.
The unit is of course protected by an attractive cover.
Low weight thanks to aluminum parts and ABS Cover
Low refrigerant charge
Improved performance, using high performance heat exchangers
Less vibration, with a quiet scroll compressor
Pre-charged with freon
Attractive design
Modular system
Easy to install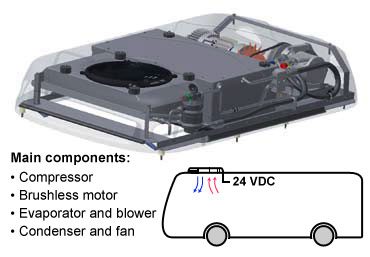 EcoFlex 4E (electrical)
This is the 24V DC complete, factory-charged driver AC. Just install and connect to the electrical system and it is ready to deliver cold air.
Comes with all components including reliable brushless motor drive, scroll compressor, evaporator, condenser and fans.
Can be used together with the optional air distributor module (see optional air distributor below). 
Mainly used as a driver A/C for city buses and truck cabs, etc.
(Click to open specifications in a new window)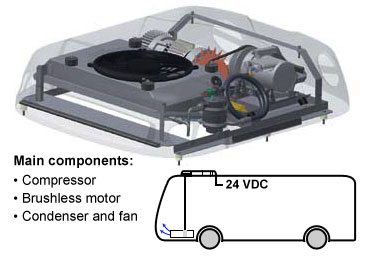 EcoFlex 4ES (electrical split)
This is the model to choose if you want to integrate the evaporator in the defroster. The EcoFlex 4ES includes reliable brushless motor drive and scroll compressor, condenser and condenser fan.
(Click to open specifications in a new window)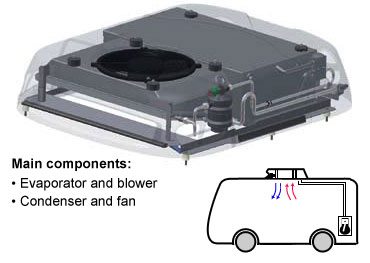 EcoFlex 6
This model is the non-electric EcoFlex, ready to connect to the bus compressor. Including evaporator, condenser, fans, and all necessary components. Can be used together with the air distributor module (see optional air distributor below). Mainly used as passenger A/C in minibuses, special vehicles, etc.
(Click to open specifications in a new window)
Air Distributor (optional)
Technical Specifications
Eco

Flex 4E

Eco

Flex 4ES

Eco

Flex 6
Application
Driver AC (city buses)
Driver AC (city buses)
Minibuses, special veh. etc.
Type
Complete AC System
Compressor/Condenser
Condenser/Evaporator
Compressor Type
Scroll
Scroll
Cooling capacity
3.8 kW
3.8 kW
5–6 kW
Voltage
24V
24V
12/24V
Heating capacity (low speed)
No
No
No
Fresh air (Yes/No)
No
Yes
No
Width
776 mm
776 mm
776 mm
Length
1200 mm
940 mm
940 mm
Height
190+20 mm
190+20 mm
190+20 mm
Air flow (free)
600 m3/h
Depends on application
600 m3/h
Current consumtion, max
65 A
62 A
11A @ 27V 22A @ 13.5V
Refrigerant Charge
750 g
Depends on application
Depends on application
Weight (total)
47 kg
38 kg
19 kg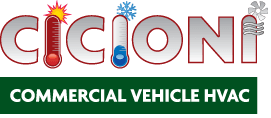 YOUR ONE-STOP SHOP
Save money, increase efficiency, reduce downtime, and minimize project risk with Cicioni.
Cicioni will customize your Mercedes-Benz or Freightliner Sprinter, RAM ProMaster, Ford Transit, GMC Savana, Chevy Express, or Nissan NV vehicles by using high quality, custom fit accessories and professional installation techniques to transform your vehicle.
Learn from our 63 years of experience! Call Al Cicioni to discuss your project.
Animal transport, relocation, rescue, safety, comfort, stress-free travel, keeping your pets and animals safe and comfortable

We've done vehicles for many animal types including German shepherds, golden retrievers, Labrador retrievers, Newfoundlands, cocker spaniels, cats, chimpanzees, lab rats, goats, and lions

Mobile grooming
Commodities transport (candy, flowers, vegetables, or medical marijuana)
Versalift vehicles
Mobile showrooms
Utility vehicles
Movie production
Fiber optic line vehicles
Mobile trades (i.e. locksmith, electrician, plumber, and handyman)
Military
Law enforcement (armed professionals, tactical, military, fire/EMS)
County
Municipal
OUR PRIMARY SYSTEM UPGRADES
HVAC Systems (Heating & Cooling)
Ventilation systems
110V engine-off systems
Fuel-Operated Heaters
Legend liners
Insulation
Partitions
Auxiliary battery packages
LED lighting
Generators
Baja exterior lighting packages
Bench seat and captain chairs
Cargo management systems
Escape hatches
Grote interior LED lighting
Heat alarms (acek9, hot-n-pop pro)
Kennel racks
Ladder racks by Prime Design
Murphy beds
Potable water systems
Pressure washer systems
Roof rack (Alurack)
Rubberized flooring
Running boards
Shelf and bin systems
Stainless steel/aluminum design, fabrication, installation
Truckvault weapon vaults
Wall-mounted awnings
Waterproofing
Xantrex Inverters/chargers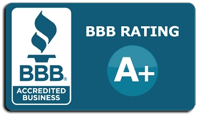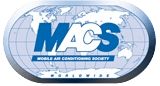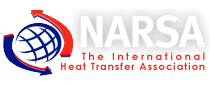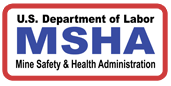 Service and Dealer Network
Service and Dealer Network Company Check – ACH Wire Transfer
We are a FULLY INSURED corporation.