Used Sprinter, ProMaster, Transit and Freightliner vehicles
Fleet of Sprinter Kitchen Vans Over 50% Off
Originally built to provide 5-star mobile meals during the pandemic, these vans are now available for more than HALF-OFF.
These are $60,000 vans new with $150,000 in upfit for only $95,000. That's a savings of over $115,000 off the original price of $210,000.
They are built on 2021 & 2022 Mercedes-Benz Sprinter 4500 170 Extended Diesel Cargo Vans.
While titled units, many of the vans were never used on the road or in food service.
Average mileage of vans used in service is approximately 5,000 miles.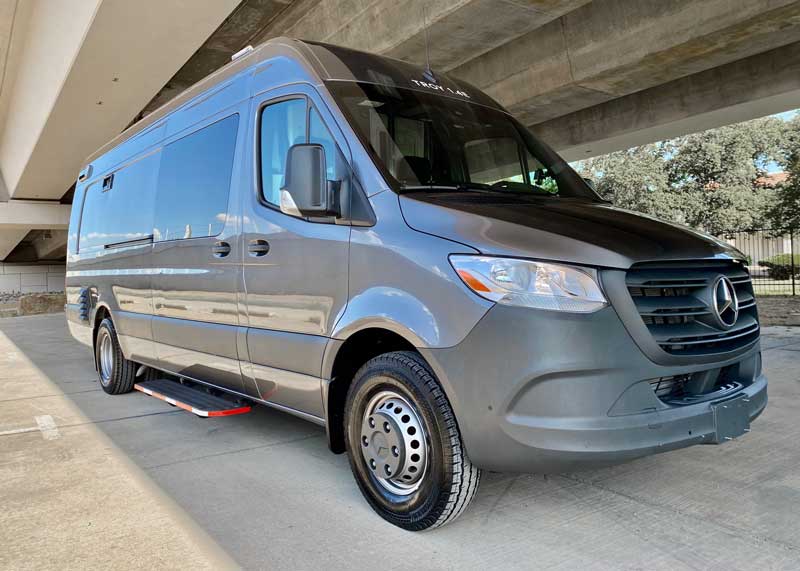 Cooking appliances, including custom refrigeration and cooking.
Storage for food and dry goods.
Power system consisting of Li-lon battery packs that are used to power the kitchen appliances, which are all electric.
All equipment is securely fastened.
All sharp edges deburred, including bulkhead wall passthrough.
All gaps over 1 millimeter or 1/32″ are sealed with food-grade silicone.
No gaps over 1/4″ unless covered with a trim feature.
The floor perimeter is sealed along all cabinets, brackets, & equipment with black polyurethane.
No exposed threads in food contact or splash zones.
Closed off all holes and gaps along floors, walls & ceiling with end caps
All pathways, holes, passages, conduits, etc., that lead from outside to inside are sealed or covered with screens to keep out pests.
All interior walls & ceilings are PVC white-coated aluminum.
Cabinets built to NSF standards with NSF-approved hardware.
Vehicle exterior: tenorite grey metallic, including side moldings & any added exterior features.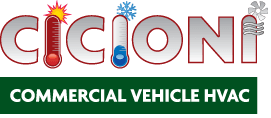 YOUR ONE-STOP SHOP
Save money, increase efficiency, reduce downtime, and minimize project risk with Cicioni.
Cicioni will customize your Mercedes-Benz or Freightliner Sprinter, RAM ProMaster, Ford Transit, GMC Savana, Chevy Express, or Nissan NV vehicles by using high quality, custom fit accessories and professional installation techniques to transform your vehicle.
Learn from our 63 years of experience! Call Al Cicioni to discuss your project.
Animal transport, relocation, rescue, safety, comfort, stress-free travel, keeping your pets and animals safe and comfortable

We've done vehicles for many animal types including German shepherds, golden retrievers, Labrador retrievers, Newfoundlands, cocker spaniels, cats, chimpanzees, lab rats, goats, and lions

Mobile grooming
Commodities transport (candy, flowers, vegetables, or medical marijuana)
Versalift vehicles
Mobile showrooms
Utility vehicles
Movie production
Fiber optic line vehicles
Mobile trades (i.e. locksmith, electrician, plumber, and handyman)
Military
Law enforcement (armed professionals, tactical, military, fire/EMS)
County
Municipal
OUR PRIMARY SYSTEM UPGRADES
HVAC Systems (Heating & Cooling)
Ventilation systems
110V engine-off systems
Fuel-Operated Heaters
Legend liners
Insulation
Partitions
Auxiliary battery packages
LED lighting
Generators
Baja exterior lighting packages
Bench seat and captain chairs
Cargo management systems
Escape hatches
Grote interior LED lighting
Heat alarms (acek9, hot-n-pop pro)
Kennel racks
Ladder racks by Prime Design
Murphy beds
Potable water systems
Pressure washer systems
Roof rack (Alurack)
Rubberized flooring
Running boards
Shelf and bin systems
Stainless steel/aluminum design, fabrication, installation
Truckvault weapon vaults
Wall-mounted awnings
Waterproofing
Xantrex Inverters/chargers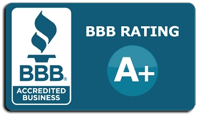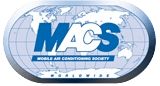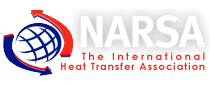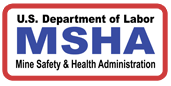 Service and Dealer Network
Service and Dealer Network Company Check – ACH Wire Transfer
We are a FULLY INSURED corporation.